How to create a WordPress blog
So you want to create a WordPress blog
Congratulations! WordPress is an excellent solution for how to start a blog, plus we think blogs are super awesome!
Better yet – it's also surprisingly simple to create a WordPress blog. That's why we say you can do it in under 15 minutes.
But as simple as it is to get started with WordPress, knowing what you need to do and how you can do it is still important so you don't waste time.
That's why we made this guide.
We'll show you every single step you need to take to start a blog using self-hosted WordPress. And we'll do it with tons of screenshots and beginner-friendly instructions.
How to create a blog: what you'll need
If you want to create a blog, here's a simple step-by-step guide:
Sign up for web hosting, not sure where to get web hosting
Choose a hosting plan.
Pick a domain/web address name for your blog.
Complete your hosting registration.
Install WordPress.
Log in and write your first blog post.
None of these steps require in-depth technical knowledge and we'll show you the whole process of how to set up a blog in detail.
Once you get your blog up and running, you'll probably want to start writing and likely tweak its appearance/functionality. To help you do that, we'll also show you how to:
Write your first blog post using the WordPress Editor
Change how your WordPress blog looks using a "theme"
Add functionality to your blog using tools called "plugins"
As long as you know how to use sites like Facebook and have an overall confidence when it comes to "web stuff", you can follow this guide. We promise!
Step 1: Purchase hosting and your domain name
Making your blog accessible to people around the world requires two things:
Hosting – this is the engine that powers your site. While you don't "see it", every single website on the Internet has a host powering it.
Domain – this is like your blog's permanent address. For example, ours is domina8. Check out this post if you need help coming up with a good name.
You can purchase your hosting and domain at the same time – so don't worry too much about the nitty-gritty details right now. But before you can do that, you need to choose a WordPress host. Because of WordPress' popularity, there are a huge number of WordPress hosts.
I highly recomend A2Hosting, its where I do all my hosting. Click the A2 hosting image below with free sign-up.
Step 2: Install the free WordPress software
If you want to create a WordPress blog, you're going to, unsurprisingly, need to install the WordPress software.
We know this might sound a little intimidating – but we think you'll be surprised by how easy it is to install WordPress.
Alternatively, https://www.domina8.com/contact-us/ to quickly and securely install wordpress and send you the login credentials.
Once the install process is finished, you can access your new blog's dashboard by going to yourdomain.com/wp-admin.
Step 3: Go ahead and write your first blog post – you earned it!
Now that you learned how to create a WordPress blog, you're probably excited to get to blogging!
We'll show you how to change how your blog looks and functions in a second. But first, let's go over just how easy it is to write a blog post on your new website.
When you first log in to your blog's WordPress dashboard, you should see a screen like this: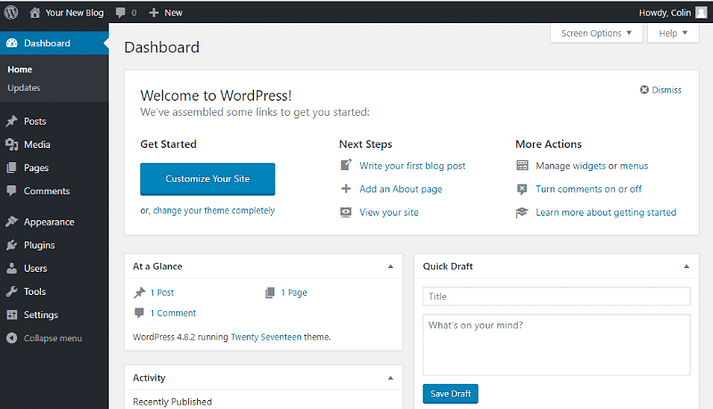 To write a blog post:
Hover over Posts
Click Add New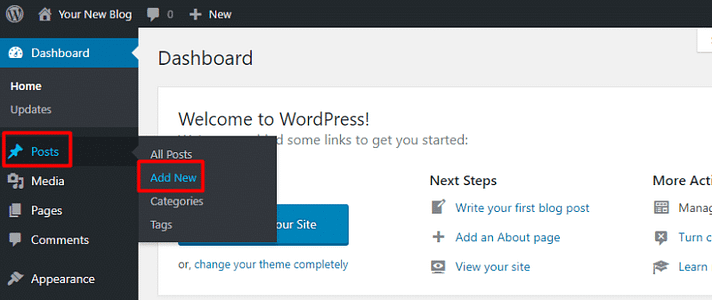 This will launch the WordPress Editor, which lets you write your blog posts using a really intuitive block system.
To add text, you just click and type. For other content – like an image or an embedded YouTube video, you can add new "blocks". To help you use the editor, you can follow our detailed guide here, or our more high-level guide here.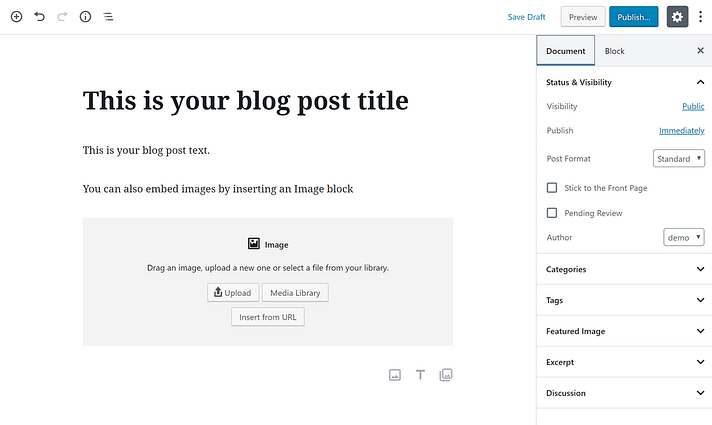 Step 4: Here's how to change how your blog looks
When you create a WordPress blog, one of the major benefits that you get is access to WordPress' huge collection of themes and plugins. Here's a quick overview of the two:
Themes – these change how your blog looks
Plugins – these add functionality to your blog
We'll cover the former in this section.
As soon as you create a WordPress blog, you already have a theme active. This is either the default WordPress theme or the theme that you chose during the SiteGround Setup Wizard.
But there are actually thousands of themes available for WordPress, so you're by no means limited to that small selection.
Where to find WordPress themes for your blog
When you go to choose a WordPress theme, you'll need to pick between free and premium themes. There's no inherent difference between the two, but premium themes often have more detailed designs and features.
To find free themes, the best place to search is the official WordPress.org theme directory. Another solid option is Just Free Themes for a more curated approach.
To find premium themes, you'll need a broader approach. Some good options are:
ThemeIsle
– we think our themes are pretty swell.
StudioPress
– these themes use a popular "framework" called Genesis.
If you want to skip the searching, we also put together a list of the best WordPress themes for blogs.
How to install a WordPress theme
Once you've found a theme that you love, WordPress makes it easy to add that theme to your site.
Here's how:
Hover over Appearance
Select Themes
Click the Add New button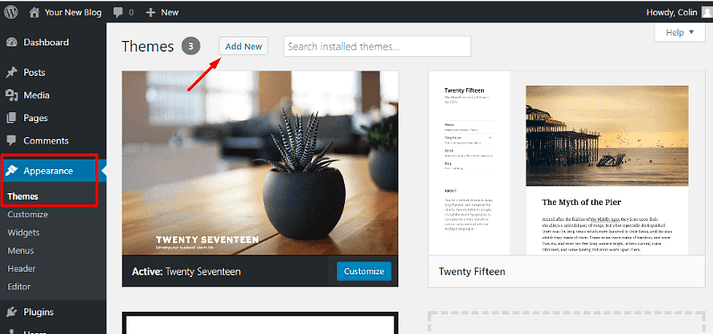 If you chose a free theme at WordPress.org, search for the theme by name and click Install.
If you purchased a premium theme, click the Upload Theme button and upload the ZIP file you should have received when you purchased the theme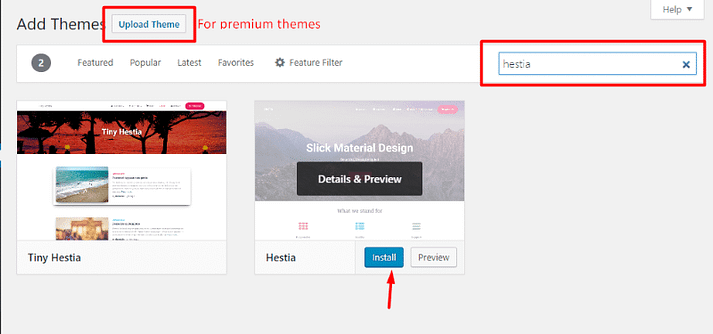 After installing your theme, make sure to click the Activate button to make it active on your site.
How to further customize your WordPress theme
To further customize your theme, you can use something called the WordPress Customizer. This interface lets you make certain tweaks to your theme without needing to know code.
You can access it by going to Appearance → Customize: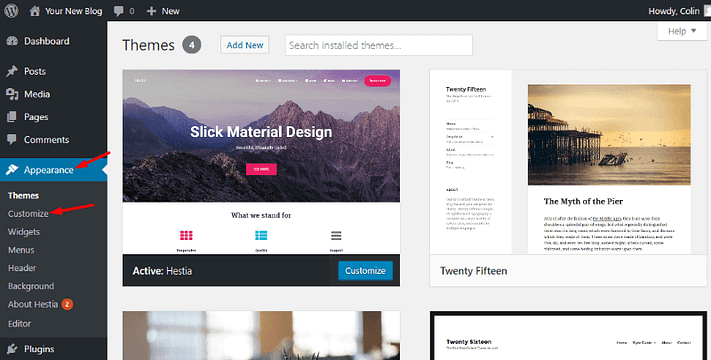 Depending on the theme that you chose, you may have a different set of options in the left sidebar. But in general, you can:
Make changes by using the options on the left
See a real-time preview on the website preview on the right
Make your changes live by clicking Save & Publish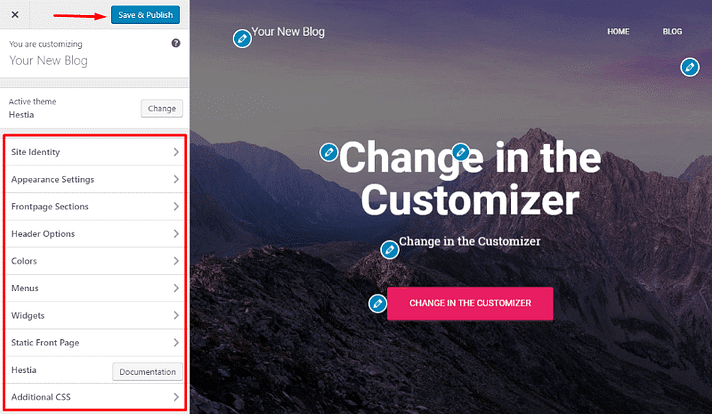 For a more detailed guide, we have a full post on how to use the WordPress Customizer.
Step 5: Here's how to add functionality to your blog
While themes are mostly about appearances, plugins are more focused on helping you add functionality to your blog.
When you first create a WordPress blog, you pretty much only have the ability to write blog posts and create pages.
Plugins are what allow you to add more advanced functionality like:
If you can think of a feature, there's probably a plugin for it. That's because the WordPress community offers over 50,000 free plugins, plus there are thousands of premium plugins.
Where to find WordPress plugins for your blog
Like themes, you can find both free and premium plugins.
Keeping the similarities rolling, the best place to look for free plugins is at the official WordPress.org plugin directory.
For premium plugins, the best method is usually to search Google for something like "best X plugin" and buy from a well-known developer.
Many free plugins listed at WordPress.org also offer premium versions with more features.
Must-have WordPress plugins for all sites
While there are plenty of niche plugins that are only good for specific uses, there are some must-have WordPress plugins that all sites, including blogs, can benefit from. Here are some of our suggestions:
How to install WordPress plugins
We already wrote a detailed guide on how to install WordPress plugins. But here's the quick version:
Go to Plugins → Add New
If you chose a free plugin at WordPress.org, search for the plugin by name and click Install Now.
If you purchased a premium plugin, click the Upload Plugin button and upload the ZIP file you should have received when you purchased the plugin.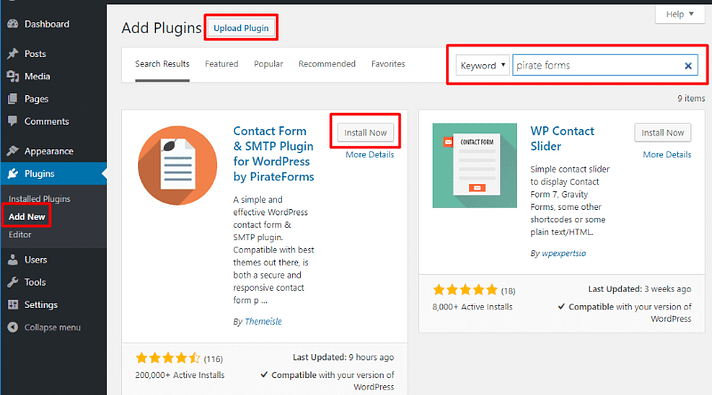 Make sure to Activate the plugin after installing it.
You can always manage your existing plugins by going to the Plugins tab: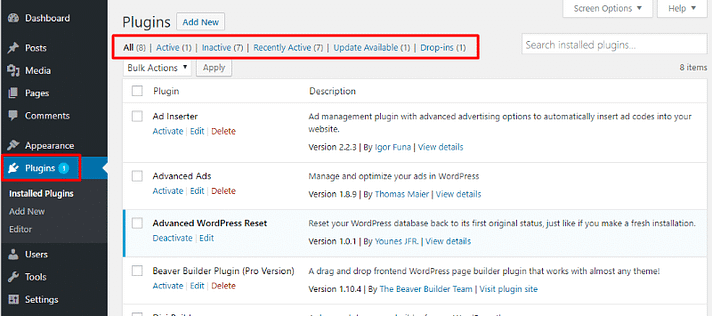 To be of any benefit your website needs visitors.
Plain and simple. The majority of websites operated by small to medium size businesses rely heavily on receiving traffic from Google. Obviously, competition is fierce to be found in the top results, where great SEO is crucial for success.
For the search engine giant to even consider your site and give you your share of visitors, Google needs to:
know your site exists
understand what the page is about
believe that it is relevant to the users search term
The ultimate goal is to have Google place your webpages high up in the search results due to their high relevance to the search term typed in by the user. I'm referring here to organic (naturally occurring) results, as opposed to the paid advertisements that often appear in the sidebar and at the top of the search engine result page (SERP). The great thing about this organic traffic is it's free.
Google loves WordPress
There are a number of reasons why we use WordPress as the basis for our websites. It's a fantastic content management system and thoroughly deserves its status as being the most widely used CMS in the world.
WordPress was originally developed as a blog platform and a search engine magnet. Google and other search engines love it. Because WordPress has such a search engine friendly design, it's used by everyone from small businesses through to huge corporates. Household names such as Ford, Sony and the New York Times all operate vast blog-based WordPress websites. Small businesses such as Kiwi Garden Sheds and Davies Urology also love WordPress for its versatility and ease of use..
Every webpage or blog post (I'll now just refer to both of these as a page) that you add should be optimised to tell Google what the page is about. Every website we build includes a powerful SEO tool that enables you to do this.
As an absolute minimum requirement you need to enter meta-data about the page. Meta-data does not show on your website – it is only seen by search engines and used in the search results. There are various types of meta-data, but the two that must be present are the meta-title and meta-description. Between them they tell Google and searchers what your page is about.
The detail is in the meta-data
The meta-title is very important as it provides summarised information about the page and is the first line that appears on the SERP. Typically it includes a concise summary of the web page content as well at the relevant keyword.
The meta-description provides more detailed information about the page, and can contain a compelling reason for users to visit your page. It's a chance to do some selling and convince people that they must check out your page.
Like everything there is always industry best practice and some tips and tricks when it comes to optimising webpages. Anyone who really understands search engine optimisation will tell you it is part science, part art and the best results are achieved long term with continual monitoring.
Fortunately the powerful SEO tool we include with our websites makes it very easy to add this meta-data to each page. It gives you a ranking on how well you have optimised the page and provides suggestions on how it could be improved. It's a fantastic, user-friendly tool that enables anyone to enter the information Google needs to correctly index the page.
Check if your website is blacklisted
No website or business wants to be on Google Blacklist.
Google finds thousands of new malicious websites every day (learn more). Some of these badware websites are created for malicious purposes, but most are legitimate business, personal, academic, and other sites that have been infected without the knowledge of their owners. Google partners with StopBadware to help website owners learn how to clean up their sites and prevent future badware infection.
If Google has detected badware on your site, you or your visitors might see a warning saying "This site may harm your computer."  If you've been blacklisted by Google, one of your best sources for help is Google Webmaster Tools. If you do not have a Webmaster Tools account, you can create one for free.
Google also has a comprehensive help section for owners of hacked sites at www.google.com/webmasters/hacked/. This informational series can help you understand why and how sites are hacked, how to build a support team, and how to assess and fix damage done to your site by malware or spam.
Poor quality content is bad for SEO and therefore Google ranks website lower.
Google is now sophisticated enough to tell if you content is poorly written. It will check if your web content:
has spelling or punctuation errors
is keyword stuffed
contains too many ads or outbound links
contains any one of a raft of poor quality signals
If you think your webpage content is not up to scratch, it's time to review it. The SEO rules just got a lot tougher, and what was acceptable a year ago is not now.
Akaiami Paradise
Accessible at: www.akaiamiparadise.com is a website I created from scratch for a customer in the Cook Islands. The website created an opportunity of me to expand my reach into creating creating something unique for the Cook Islands and for Aitutaki holiday. The customer not only wanted a brand new website, they also wanted to be visible on Google maps and Google search. Lastly I wrote a blog about The Rock stuntman Tanoai Reed. https://www.akaiamiparadise.com/2019/08/25/the-rock-stuntman-visited-akaiami-paradise/. This website was created with lots meta data, SEO ranking tools, checked and make sure the website is not blacklisted. Check out website for aitutaki holiday deals